Contact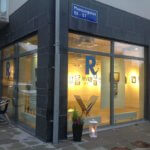 Visiting address:
Monsungatan 57, Gothenburg
(Opposite the Bockkranen bus stop, line 16, on Västra Eriksberg)
You can easily get there by car and can park for free for two hours on the street.
Bus 16, bus stop Bockkranen, located directly opposite the gallery.
Alternatively, Älvsnabben to Eriksberg and a walk in a few minutes.
Follow the quayside from the ferry position, over the red bridge that crosses
the Eriksberg dock and up to Monsungatan.
Accessibility: The gallery is on the ground floor, without high thresholds.
Adapted for wheelchair access.
Opening hours:
Wed-Thurs 13-17
Fri-Sun 12-15
Opening weekends Sat-Sun 12-16
Other days and times it is possible to book a visit.
IMPORTANT INFORMATION due to the current situation with Covid-19
Due to the current situation with Covid -19 and the new rules introduced, the number of
visitors to the gallery is limited to a maximum of 4 people at a time.
Hand alcohol is easily available to all visitors and to us who work in the gallery.
We do not offer anything to drink or eat during openings.
No lists that change hands – information is posted at each artwork.
Open door as much as possible!
You who can not or do not want to come when other people are in the gallery, can
book you and your party in a private viewing.
If you are healthy and do not feel any symptoms of illness, you are welcome, otherwise we
ask you to wait with your visit to us. Make sure you get to us in a safe way!
Telephone:
+46 70 284 20 50
Email:
Facebook:
www.facebook.com/rivercitygallery.se
Instagram:
www.instagram.com/rivercitygallery/
Postal address:
RiverCity Gallery
c/o Monica Göransson
Tubogatan 8
S-417 16 Göteborg
Sweden