Contact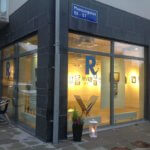 Visiting address:
Monsungatan 57, Gothenburg
(Opposite the Bockkranen bus stop, line 58, on Västra Eriksberg)
You can easily get there by car and can park for free for two hours on the street.
Bus 58, bus stop Bockkranen, located directly opposite the gallery.
Alternatively, Älvsnabben to Eriksberg and a walk in a few minutes.
Follow the quayside from the ferry position, over the red bridge that crosses
the Eriksberg dock and up to Monsungatan.
Opening hours:
From June, 13  and during the summer, the gallery has new opening hours.

See them by following this link.
Telephone:
+46 70 284 20 50
Email:
Facebook:
www.facebook.com/rivercitygallery.se
Instagram:
www.instagram.com/rivercitygallery/
Postal address:
RiverCity Gallery
c/o Monica Göransson
Tubogatan 8
S-417 16 Göteborg
Sweden